CUSTOM JEWELRY
These pieces were each created individually for our clients, sometimes using stones which they selected from our inventory and sometimes using their own stones.
---
Pink Tourmaline and Diamond Ring
The deep pink tourmaline weighs over 8½ carats, and the ring was custom made based upon a drawing the customer brought us.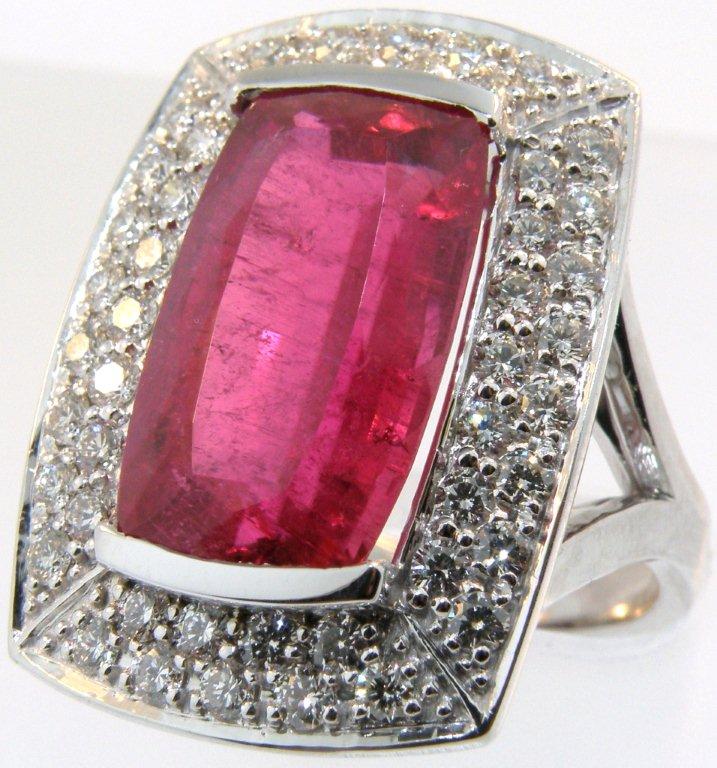 ---
Diamond Filigree Pendant
The client had her late mother's wedding set and wanted us to make her a pendant with the diamonds. The filigree design reminds her of her mother's style sense.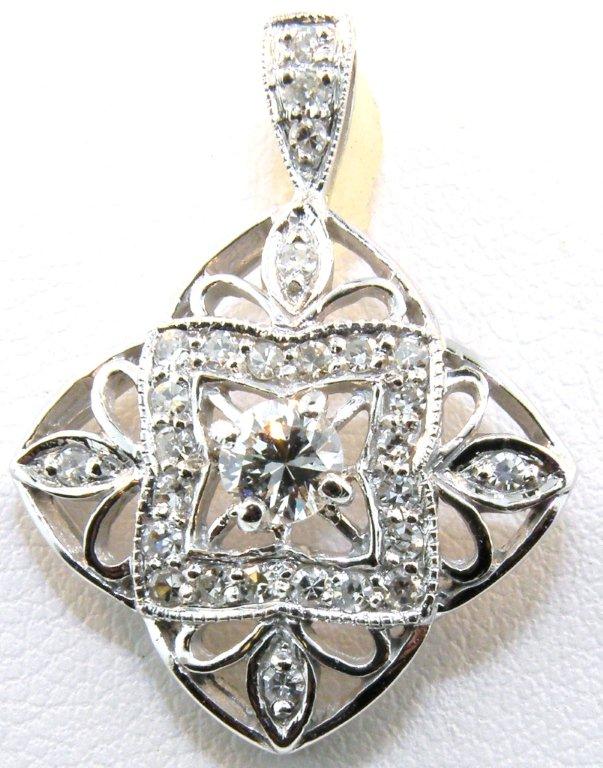 ---
Pave Diamond Ring
Our customer had an assortment of diamonds from various items that she no longer wore. We made this band using all of them to give her the bling she was looking for.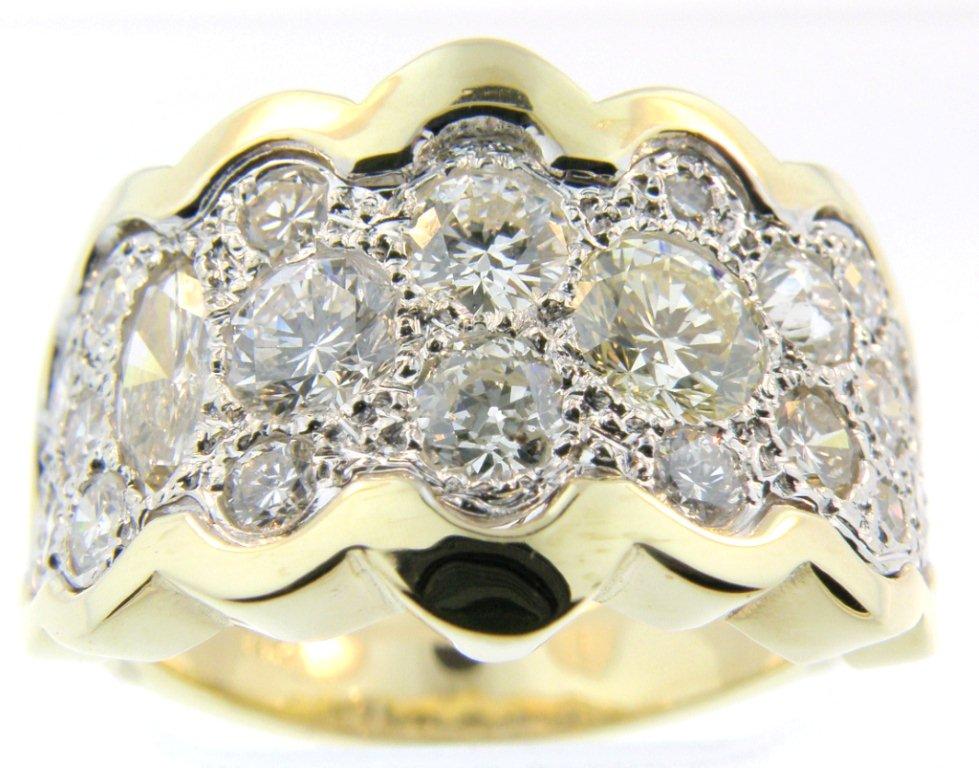 ---
Blue Topaz Ring
The client supplied the Blue Topaz, and we created a very wide ring to her specifications in sterling and 14karat yellow gold.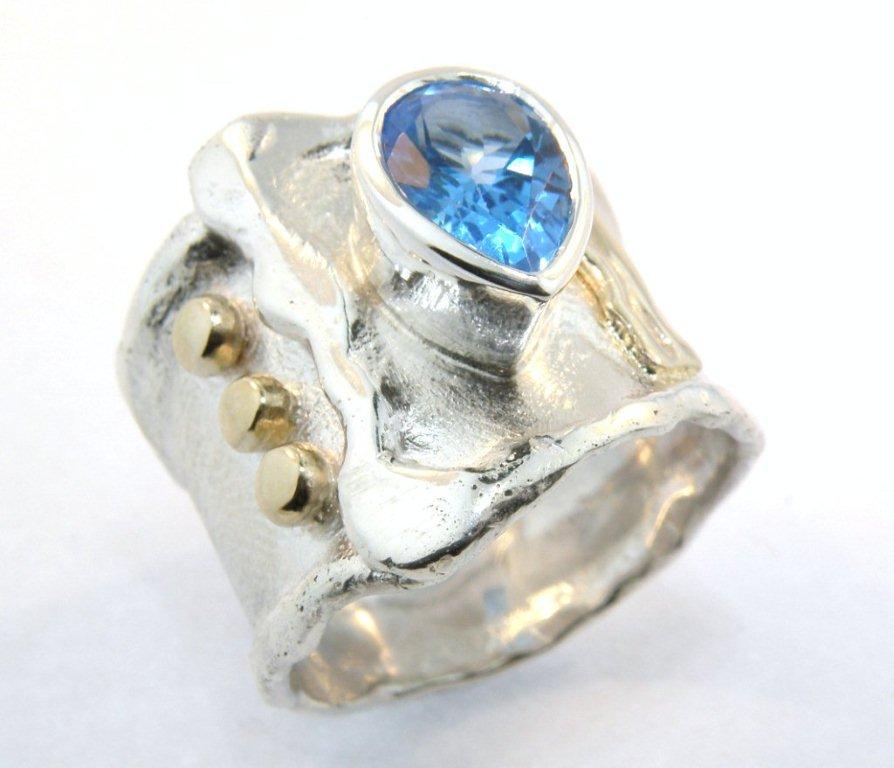 ---
Emerald and Diamond Leaf Pendant
Our client brought a sketch and stones from various old family jewelry pieces. This pendant looks great on her omega chain as well as on several others.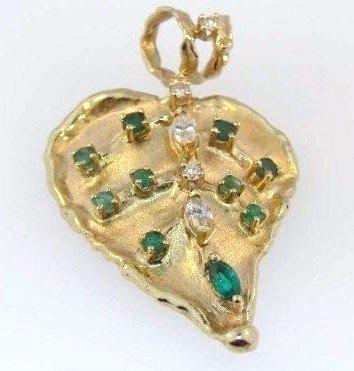 ---
Morganite Pendant
A gentleman saw this gorgeous Morganite in our store, and asked us to make his wife a pendant. We thought that the stone needed little enhancement, and created a simple frame for it, using an enhancer bail so that the pendant may be worn on a chain or with pearls.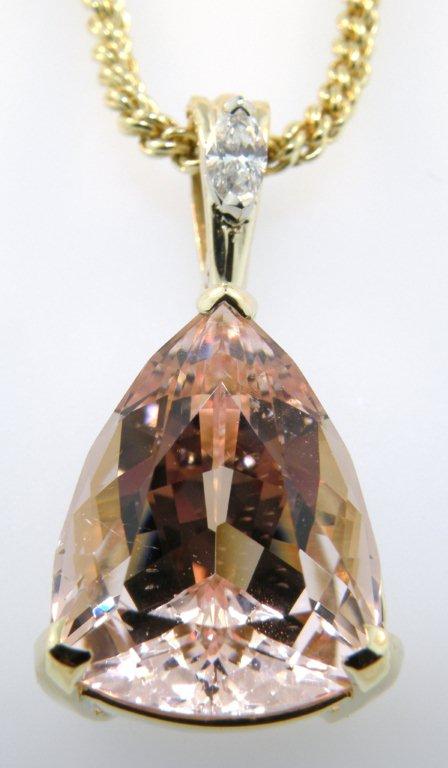 ---
Imperial Topaz Ring
We had this elongated pear shape imperial topaz in our display case, and working with the customer, created a two tone ring with the stone set horizontally.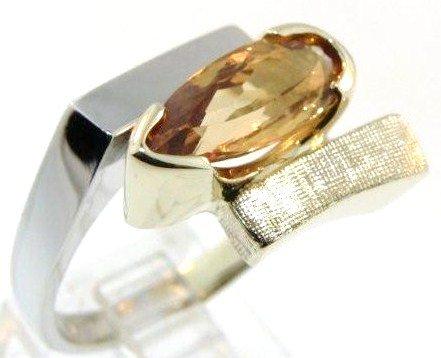 ---
Platinum and Diamond Engagement Ring
To commemorate their 25th anniversary, the couple wanted to combine a princess cut stone they already had with some of ours to make a three stone, Past, Present and Future ring.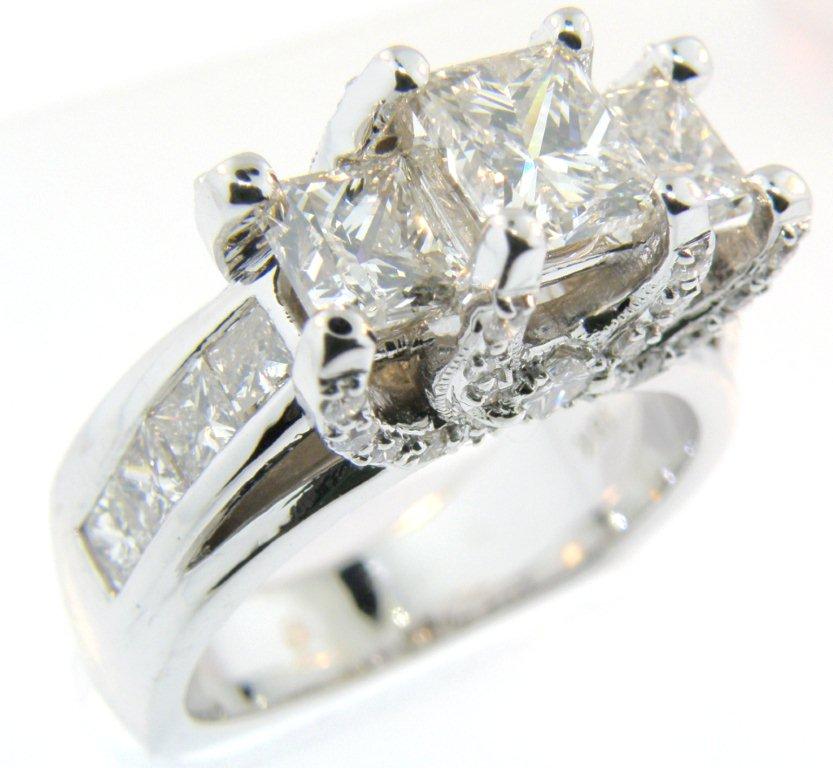 ---
Sterling, Gold and Diamond Cuff Bracelet
The cross, originally a pendant, came from our client's late mom. We added more gold and diamonds to balance out the design of this custom fitted cuff.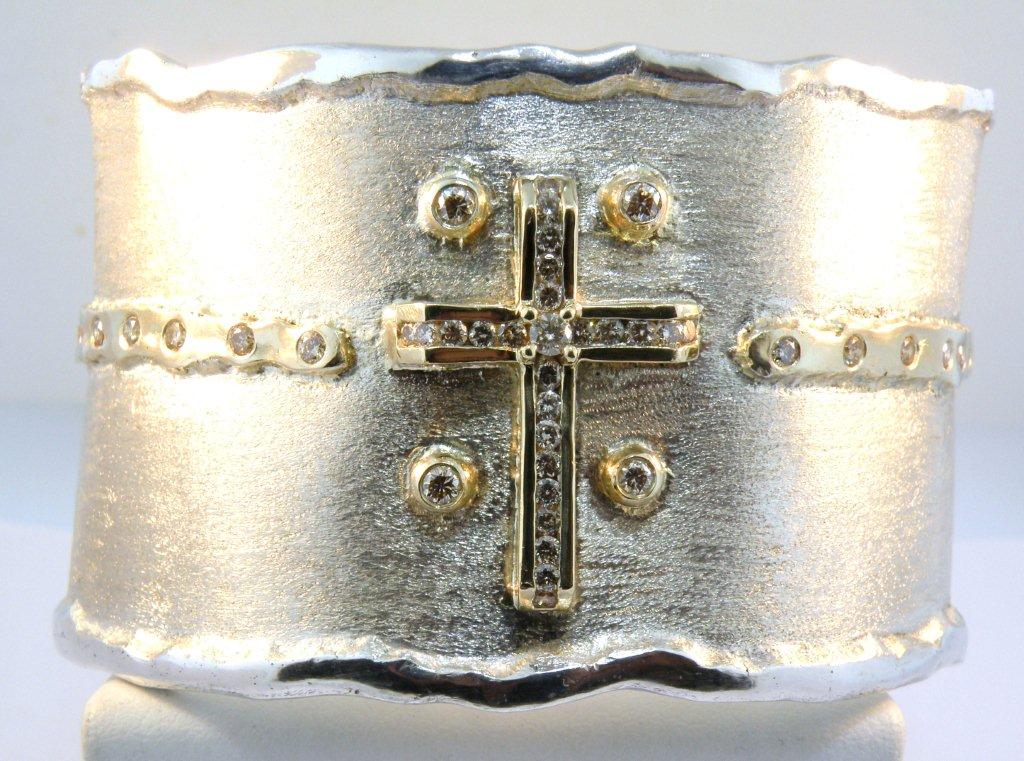 ---
A Ring For A Queen
We created a ring using black spinels and white diamonds in 14 karat yellow gold for Jackie Scott, Tidewater's Queen of the Blues. She was in love with a ring owned by the famous blues saxophone player Eddie Shaw, and with his permission we used his ring as a starting point to make Ms. Jackie the ring of her dreams. We changed the original design around just a bit to match her inimitable style. You can see Jackie Scott And The Housewreckers performing at various venues across Tidewater. And you can be sure she will be wearing her ring!
http://jackiescottandthehousewreckers.com/

---
Atocha Coin Ring
Our client returned from the Florida Keys with a genuine silver coin from the Atocha Spanish shipwreck. We designed a ring for her in silver with a 14 karat gold bezel holding her coin featuring tiny diamonds set in the gold, giving the bezel the appearance of a ship's portlight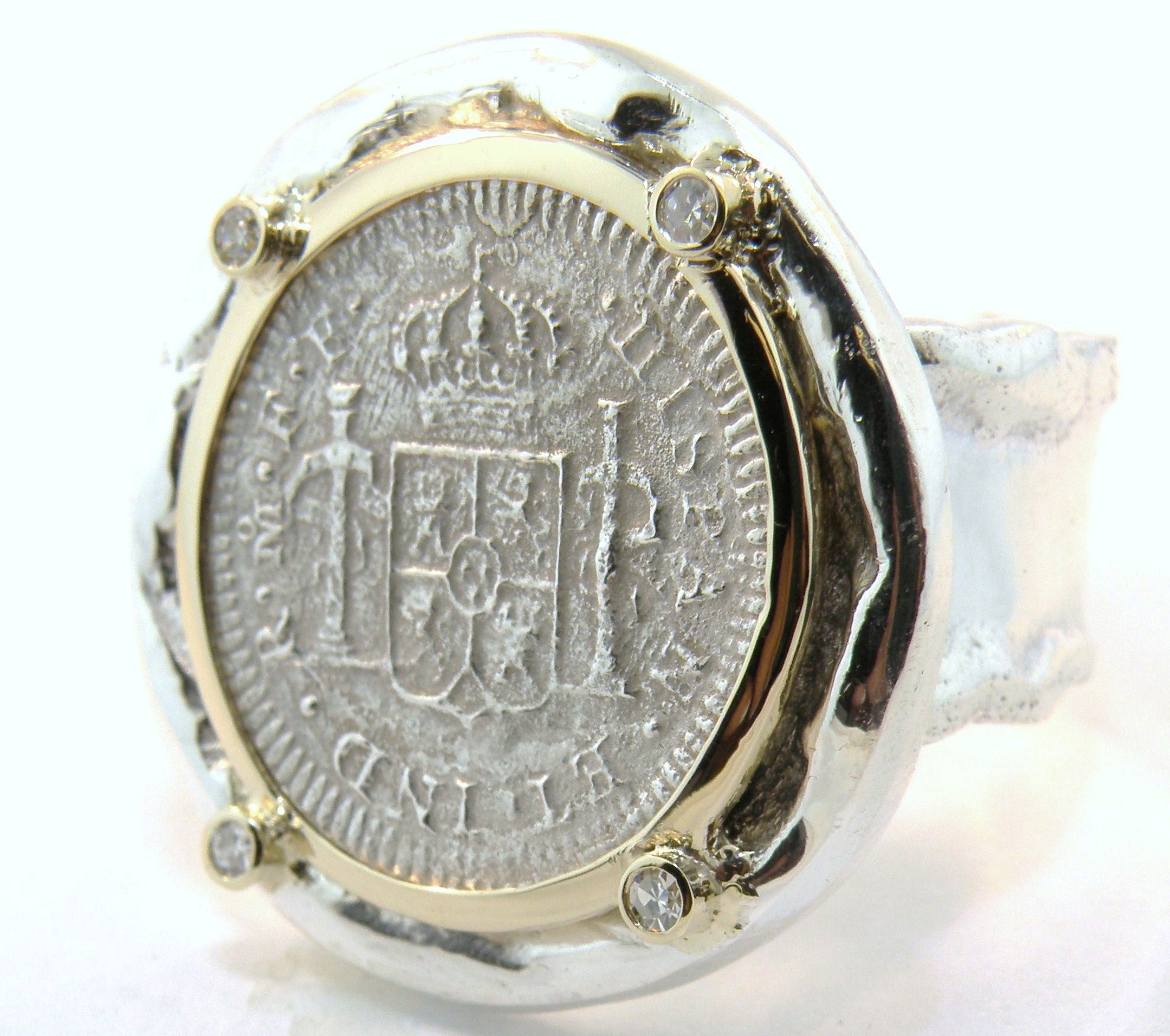 ---
Rose And White Gold Wedding Set
Our client's fiancee loved the combination of white and rose gold, so we made her engagement ring featuring a 1 carat Marquise diamond white gold with accents of rose and then handcrafted the matching bands in white gold (a diamond band for her, of course!) with a ribbon of rose gold running through them.